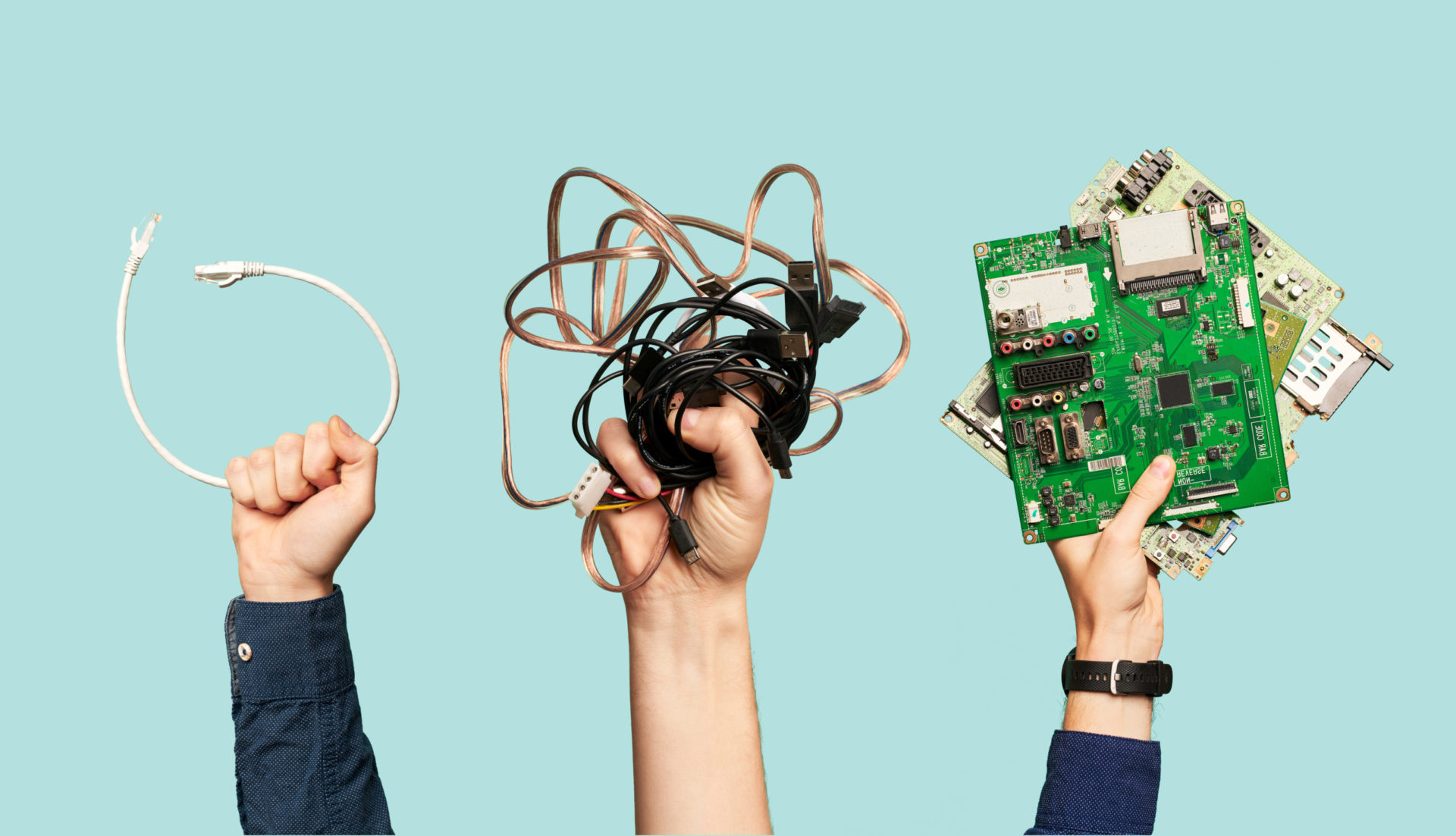 How to Recycle Electronic Waste
Electricals like televisions, computers, power boards and kitchen appliances, unfortunately, have a shelf life – at some point, you will need to dispose of them if they break or stop working. However, the correct way to handle electronic waste can be confusing. You might ask yourself; is it considered hard rubbish? Can it be recycled? Can I mix it in with regular rubbish? To help protect our environment and recover more precious resources, the Victorian Government has banned all e-waste from going to landfill as of 1 July 2019. That means e-waste cannot go in any bin, so understanding the proper way to deal with electronic waste is not only important for the environment, it can also help you avoid a potential council fine. Keep reading to find out more.
Defining electronic waste
In order to correctly dispose of electronic waste, you first need to understand exactly what counts as electronic waste. As a rule of thumb, electronic waste refers to any item with a battery, plug or cord. This covers everything from large items such as refrigerators, microwaves and coffee machines to small and medium appliances such as phones, video games consoles and watches. Make sure you remember to wipe all data and perform a factory reset on relevant items before you repurpose or recycle in order to protect your personal information.
Recycle, recycle, recycle
Did you know that in Australia, electronic waste accounts for 70% of the toxic chemicals found in landfill? That's why the most important thing to remember is electronic waste can and must be recycled. Otherwise chemicals like lead, cadmium, beryllium, mercury, and brominated flame retardants end up in our air, water, and soil.
What's more, electronic waste isn't valueless; old electronics are filled with precious metals, including gold and rare earth metals. These can be extracted and used to make batteries, jewellery, metal plates, and other electronics. Repurposing what has already been mined helps reduce the greenhouse gasses released into the atmosphere by the mining, processing and transportation of these raw materials.
In other words, recycling electronic waste has a multitude of environmental benefits.
How to find a recycling service
Electronic waste can be dropped off at a range of recycling service locations, so visit your local council website to find one nearest to you. However, certain electronics can be recycled at specific locations:
Batteries
Household batteries can be recycled easily at no cost at the participating Aldi and Batteryworld stores.
Light bulbs
Fluorescent tubes and light bulbs can be disposed of for free at permanent drop-off sites located at most council-operated transfer stations.
Laptops
The National Television and Computer Recycling Scheme has designated collection points across Victoria. These are provided by TechCollect, Electronics Product Stewardship Australasia, Ecycle Solutions and Drop Zone.
Smoke detectors
Domestic smoke alarms are not included in the e-waste ban and can be disposed of in normal household rubbish. Further information on smoke alarms is available from the Metropolitan Fire Brigade.
Some manufacturers accept old electronic, for example, Apple offers a Renew program where you can trade in devices for store credit. So if you're looking to recycle electronic waste, reach out to the manufacturer to discuss your options.
Create an electronic waste policy
Are you a business owner? Developing an electronic waste policy can help ensure your business aligns with the proper recycling practices. Here are a few things to keep in mind when developing an electronic waste policy:
Identify and keep records of all potential electronic waste in your workplace.
Set up collection points for broken or damaged electronic equipment.
Identify reputable e-waste collectors, including free collection services in your area.
Educate your staff on the environmental benefits of recycling and repurposing electronic waste instead of letting it go to landfill.
Review your purchasing processes and speak with your suppliers about vendor take-back or leasing.
Having a policy in place is the first step towards creating solid electronic recycling practices in your workplace.
Recycling electronic waste doesn't have to be difficult – understanding where and how to dispose of your items is the key to making it easy and ultimately helping the environment. Want to know more about electricals and good electronic waste practices? Contact All Electrics, and speak with one of our electrical experts today.