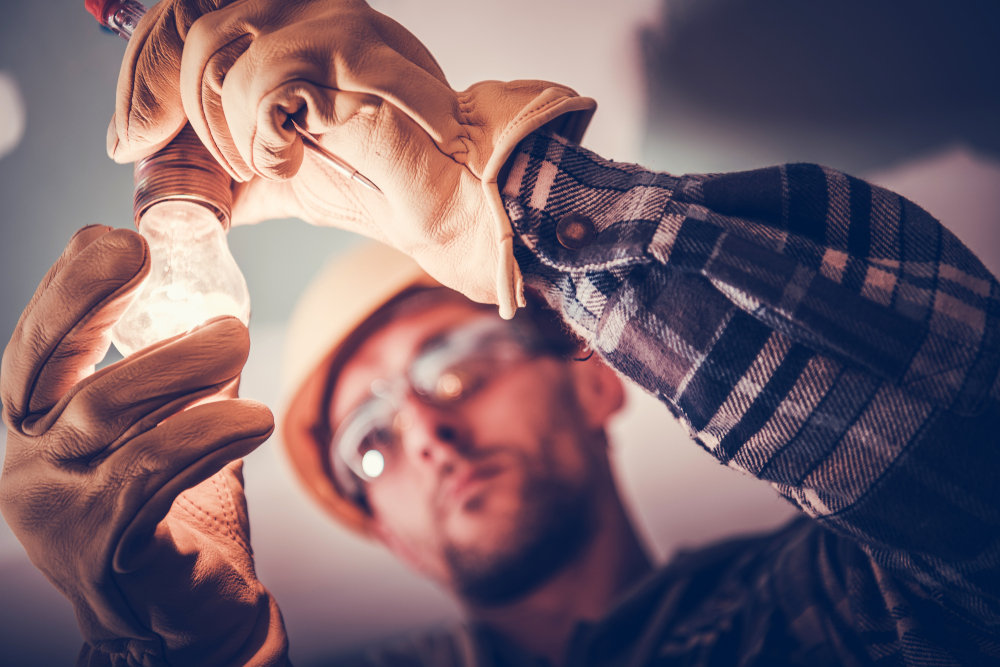 What Do Electricians Do?
Having a great electrician contact is worth its weight in gold. The endless list of jobs and improvements that a commercial electrician or domestic electrician can bring to your property will not only keep you productive and connected, but it will also provide safety. All Electrics have been working with Melbourne homes and businesses for a long time, but you might be wondering exactly what so electricians do beyond the services you know and trust. Well, a day in the life of an All Electrics electrician is far from routine, so let's shine a little light on the process and find out the answer to the question "what do electricians do?". 
Smoke alarm installation & testing
You would be forgiven for believing it is only lighting and wiring that electricians are tasked with, as they are also trained and certified in installing and testing smoke alarms in your house or in your business. Not only do these devices provide the ultimate peace of mind, but they can also help with getting and keeping the right comprehensive insurance. Having operated in the Melbourne area for a long time, we see all too often that smoke alarms lapse in their effectiveness, due to them not being tested by an electrician over their duration. You might not think of this job when you consider what do electricians do, but this can be arranged periodically with your local All Electrics electrician.
Rewiring, powerpoints & switchboard upgrades
It doesn't matter how modern or classic your home or business is, you can have control over the house wiring and the condition of your powerpoints and switchboard upgrades. These issues can turn more sinister than just being inconsistent and inconvenient, and the cost to replace them can be significantly more if you don't act when you start to see wear and fault and they burn out and cause internal damage. House rewiring is a core role when determining what do electricians do, and so you can be assured that the works completed will see your electrical wiring performing exactly as it should going forward. The switchboard upgrades and powerpoint installations can also change the flow and function of your home, so chat to your All Electrics electrician in Melbourne to find out what is possible.
Fault finding & replacement
Electrical services are about being proactive as much as it is about being reactive, and this is where fault finding and replacement is a critical area that home and business owners need to stay vigil with. Our All Electrics electricians have over 20 years experience in detecting faults that may or may not be obvious to an untrained eye, with the most appropriate and modern solutions used to replace these faults. Typically these works can be carried out in conjunction with an electrical safety inspection, which is also a great service to deploy if you have just (or are about to) buy a residential or commercial property. This saves you from having to contend with outdated cables and switchboards and minimises the danger of "live" wires.
Outdoor lighting and emergency light installation
Is outdoor lighting a part of your insurance agreement? For many commercial properties, outdoor lighting is outlined as a safety instruction to be eligible for public liability cover, so you want to know that this outdoor lighting is correctly installed and providing that safety you are upheld to. All Electrics will work with your specific property to provide a tailored solution that is cost-effective and reliable, and typically an LED option. If you have the infrastructure already in place but you aren't satisfied with the light coverage, our electricians will make an assessment of whether to work with or install new outdoor lighting.
So, what do electricians do when it comes to emergency lighting outside and inside of a commercial property? The emergency light installation is carried out by our team of trained electricians, with competitive electrical maintenance packages including this critical service that is in line with the most up to date Australian Standards. This needs to be serviced every 6 months, and our All Electrics electricians can work with you on a plan to see this achieved and managed.
RCD testing, test & tag electrical services
If an electrician does their job correctly, you probably won't even know what goes on with your routine test and tag electrical services, as things will continue to work as they should without fault of safety risk. So, what do electricians do when they carry out a test and tag? They inspect wall sockets, generator, electrical drills, chargers, photocopiers, microwaves, refrigerators, PCs and anything that is plugged into your electrical and susceptible to the greater performance of your home and office. Beyond the safety, having up to date electrical maintenance might actually serve you from a financial perspective as your insurance provider wants to know that your home or business is in safe and working order and can lower your premium cost in turn.
RCD testing is a little bit more targeted to a commercial setting, and specifically your OHS/WHS responsibilities and commitments. Our All Electrics electricians will monitor your safety switch and electrical sockets so that all of your employees are protected from small and severe electrical shocks. This is an area that you don't want to cut corners, as the penalties for these occurrences can be very serious and in some cases fatal.
Contact All Electrics today to learn about how our team of trained Melbourne electricians can make your home or business bright and safe, under any circumstances.